Top 5 Things To Know About Email Marketing Practices Under GDPR
The new general data protection regulation has a direct impact on Email Marketing Practices marketing practices.
With GDPR now effective from May 2018 , the marketers concerned about their email marketing practices under GDPR consent. We happen to gather precious information for you when it comes to email marketing practices. Let our guide help you to understand, prepare and comply for the GDPR so that you know what are your limitations when it comes to email marketing. 
Under GDPR
1 in 3 B2B marketers expect their lead conversion rates to drop

40% of marketers believe their existing strategy will be significantly disrupted

More than half (51%) of all marketers anticipate that their mailing lists will get smaller
But, it's not like we can ignore this new privacy law either.
How Does GDPR Impact Email Marketing Practices ? 
GDPR takes existing personal data protection laws and updates them for the digital age.
But, what is personal data?
According to the official GDPR website, personal data can be "anything" – from a name or a photo, to medical information or a computer IP address, etc. – but for the purpose of this article, we're going to focus on personal data being an email address.
There are more than 269 billion emails sent every day.
A study found that 58% of these are promotional emails.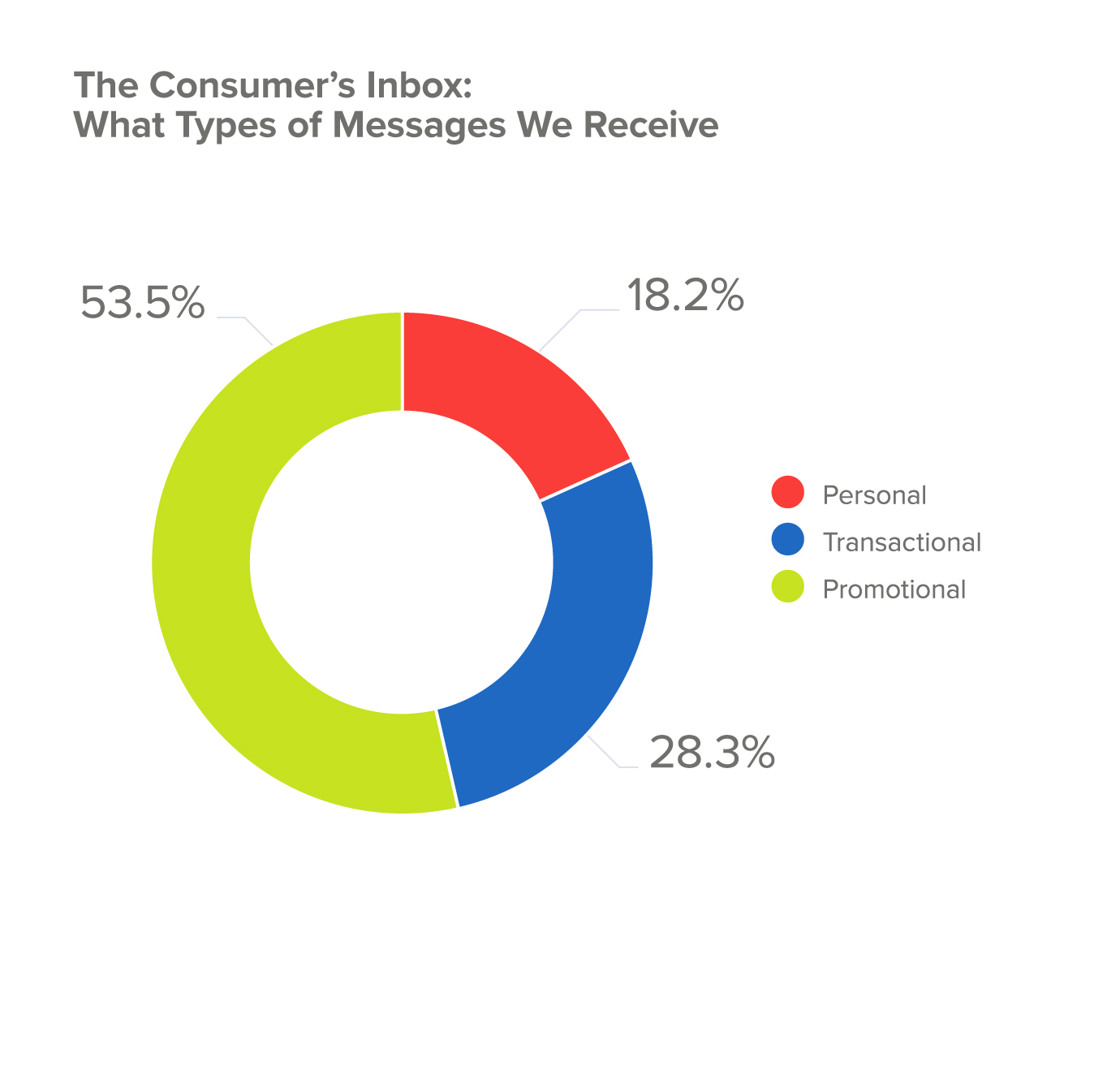 To achieve compliance, you have to adopt new email marketing practices:
New consumer opt-in permission rules
Proof of consent storing systems
A method through which consumers can ask their personal information removed
Top 5 Things To Know – Email Marketing Practices Under GDPR Consent
1. Getting Permission From Legacy Contacts
One of the biggest questions when it comes to GDPR and email marketing is legacy contacts and if you can still continue to contact people who were added to your mailing list prior to 25th May 2018.
So, can you still communicate with existing mailer subscribers?
If your mailing list includes people who have explicitly opted-in to receive marketing emails from you prior to May 25th, 2018, then you can continue to communicate with them – providing you have their consent.
As a company, you will need to make an important legal assessment.
It goes like this: you may assume that you have a legitimate interest to continue to communicate through email with those people who had earlier explicitly opted-in even though you do not have proof and, they yet have a possibility to opt out of receiving emails from you.
However, if your mailing list includes subscribers that were automatically opted-in – whether through a pre-checked box or via a purchased mailing list, then you will need to obtain consent from them again.
2. Collect New Opt-Ins and Email Permissions
As marketers, we've all been guilty of assuming that if a prospect filled out a pop up or a web form, we can add their email address to a mailing list and start sending them email campaigns.
Well, this is no longer the case.
What this means to you is that you cannot pre-tick a box for them or hide your communication policy within your privacy statements. If you want to send emails to a prospect, they must explicitly opt-in to receive newsletters from you.
The new form GDPR designed compliant now gives prospects the chance to actively express permission to be marketed to and accept our terms and conditions, by ticking the relevant boxes. This version of the form is GDPR compliant.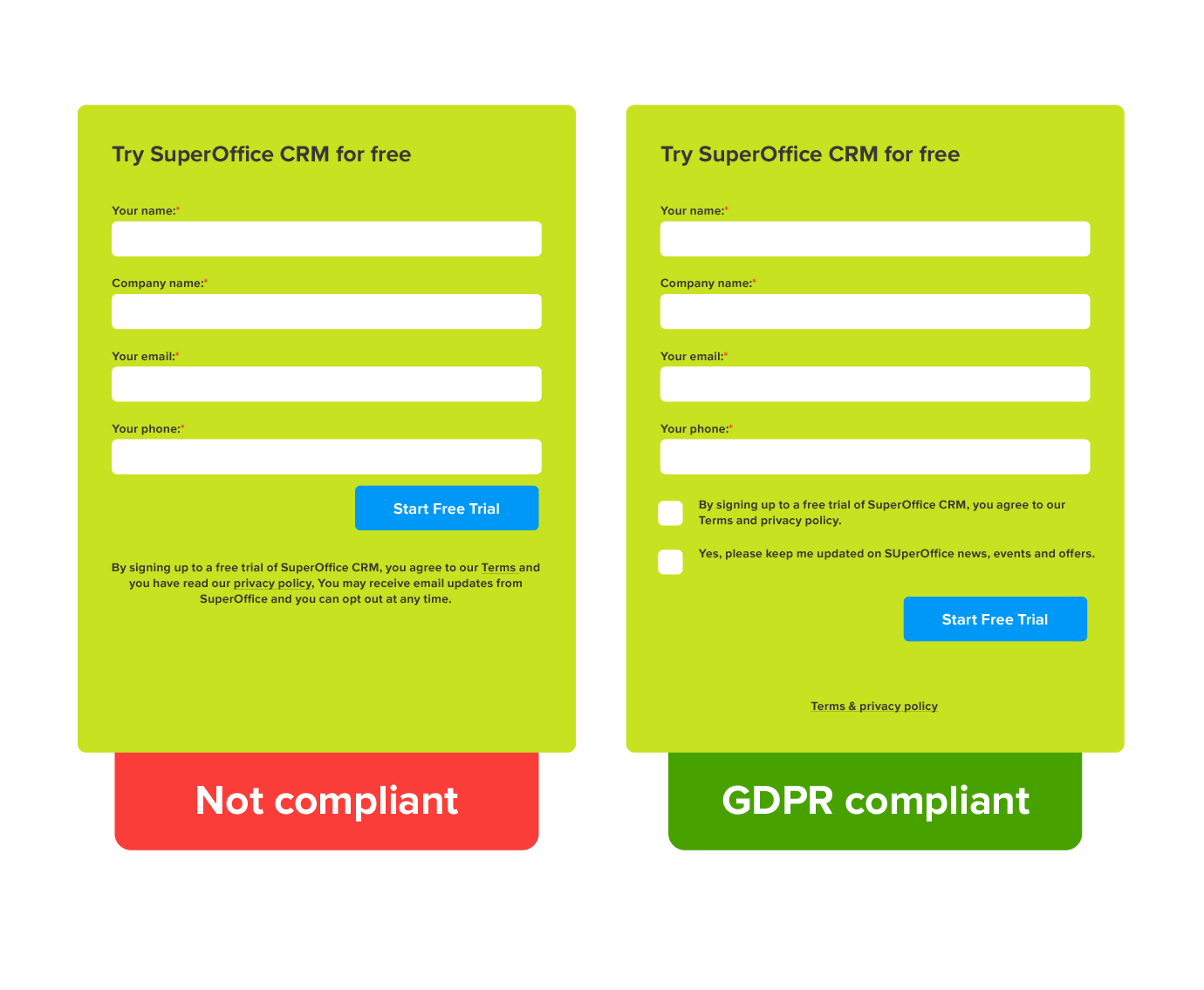 3. Managing Automation & Segmentation
With GDPR, you need to think very carefully about how you use marketing automation.
To begin with, you cannot send automated emails to an individual unless they give an active indication of choice to receive them. This includes lead nurturing campaigns, onboarding emails and product training material.
And even if your subscribers do opt-in, you need to re-think how you segment them!
Because there are limits on how to how you can segment data under GDPR. For more details you can check here with GDPR Wikipedia
4. Manage Opt-Ins & Subscriptions
A huge part of the new regulation is how personal data is being used and how individuals can essentially 'reclaim' ownership of it. This 'right to be forgotten' is particularly relevant for email marketers.
To keep yourself GDPR compliant, you should only be sending marketing messages to prospects that have specifically opted in to receive them. But, what happens when prospects don't want to hear from you anymore?
You need to let them unsubscribe.
This means updating your B2B email marketing templates to include an unsubscribe link.
To keep on the right side of GDPR, you should make it simple and straightforward for users to opt-out of your email marketing campaigns. Unsubscribe links should be clearly visible, and not hidden inside your email marketing template.
5. Keeping Consents Of Who, When & How
GDPR not only sets the rules for how to collect consent, but also requires companies to keep a record of these consents.
In some countries, the burden of proving consent has always been the responsibility of the company that collected the opt-in. For many other marketers, however, this requirement is a new challenge to tackle.
Keeping evidence of consent means that you must be able to provide proof of:
Who gave consent

When they gave consent

What they were told at the time of consent

How they gave consent (e.g., during checkout, via Facebook form, etc.)

Whether they have withdrawn consent etc.
Next Step ???
Did You Enjoy Reading About Email Marketing Practices & GDPR ?
Need An Expert Email Marketing Services Onboard For Your Business?
If you want more information about how to promote your newsletter and use it to build up a client base come to us!! SME Networks Email Marketing service designs beautiful, engaging, creative email marketing campaigns at affordable rates.
P.S. If you enjoyed reading this post, you can share it!